O seriji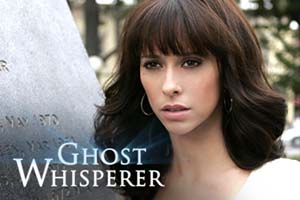 Još jedna serija o duhovima i mladoj ženi koja može da ih vidi, čuje i razgovara sa njima. Inspirisana je knjigama "pravih" medijuma, Meri En Vinkovski (Mary Ann Winkowski) i Džejmsa Van Praga (James Van Praagh).
Melinda Gordon (Dženifer Lav Hjuit) je još kao mala, od svoje bake, saznala da može da komunicira sa duhovima, koji su zbog nekih svojih nezavršenih poslova, sprečeni da odu na "onu stranu" i još se muvaju po Zemlji. Taj dar imaju i njena baba i majka. Melinda pomaže duhovima da završe to što ih muči, da bi oni mogli da odu u "blještavu svetlost"Ona ima prodavnicu antikviteta, u prvoj epizodi se udala za medicinskog tehničara koji radi u hitnoj pomoći i podržava je u njenom pomaganju duhovima. Oboje vrlo emotivno doživljavaju probleme umrlih i njihovih porodica.
JLH često mora da istražuje na šta se u stvari odnosi to što joj neki duh kaže, i da to onda saopšti njihovoj porodici ili onome ko im je značajan. Duhovi su prikazani kao obični ljudi, nema nekih naročitih specijalnih efekata. Melinda sa njima razgovara i u po bela dana, kao da su živi.
U stalnoj postavi je još nekoliko likova, koji takođe prihvataju, neki čak sa oduševljenjem, Melindin talenat i takođe joj pomažu.
Atmosfera u seriji je kao u nekoj porodičnoj priči. Prati život glavnog lika kao da je razgovor sa mrtvima najnormalnija stvar.
Da li pratite seriju?
Kako vam se dopada Melindin lik?